On a morning walk with my dog, I couldn't help but notice how the air seemed especially crisp and clear — fresher than usual. It felt like a perfect spring day, with the birds singing loudly, and hints of colourful flowers peeking their heads up through the earth. At that moment, it felt like a normal spring day, walking in a healthy environment.
I was reminded these aren't normal times. As I was about to pass a fellow walker, I smiled and quickly moved to my right to keep a six-foot distance. We need people more than ever, we're being yet are asked to distance ourselves from others. These are COVID-19 times.
COVID-19 Leads to Reduced CO2 Emissions
As humanity is taking a pause from life as we knew it, and people are adjusting to a new normal, something palpable is happening in the natural world. The environment is getting a much-needed reprieve from human activity. And as examples from around the world show us, it is happy because of it.
One of the most stunning visuals is of how air pollution has dropped over China during the coronavirus outbreak. So much so, that it is estimated that this drop in air pollution has saved 77,000 lives during the shutdown, 20 times the number of lives lost to the virus. These images from The Guardian, show the dramatic change in air pollution in China from 2019 to  the same period in 2020.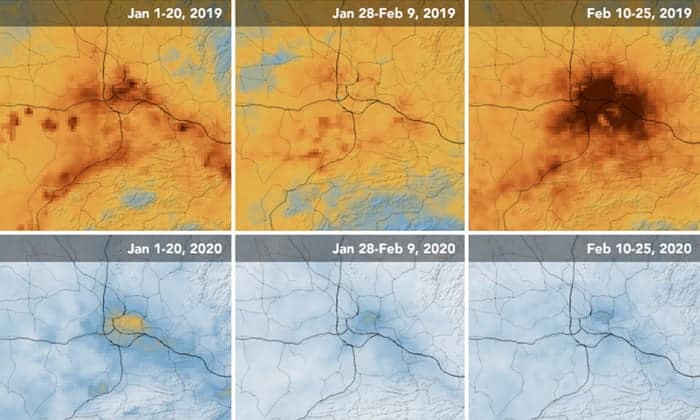 With business meetings, public events, concerts, sporting events and travel all but stopped, car trips and airplane flights have plummeted. This has led to a significant reduction in carbon dioxide emissions, the key factor in global warming. The use of fossil fuels has dropped from pre-coronavirus levels. This means our collective carbon footprint has been drastically reduced as well. Good news for the environment.
The use of fossil fuels has dropped from pre-coronavirus levels. This means our collective carbon footprint has been drastically reduced as well. #airpollution
Click To Tweet
A Time for the Environment to Heal
As humans isolate at home, the environment is having a chance to heal. Air is getting cleaner and waters are getting clearer. In the canals in Venice, now devoid of gondola and boat traffic, the water has settled and is clearer and the air in the city is cleaner. As this time-lapse video illustrates, air pollution over Italy has also dramatically declined.
For the first time in almost 30 years, people in northern India reported they could clearly see the Himalayas thanks to the reduction in air pollution during India's lockdown. As millions of Americans are kept home from work, school and most public places, satellite images show pollution on the declineacross the U.S. Here in Canada, air pollution has also eased in Toronto, Edmonton, Calgary and Vancouver as people are staying home.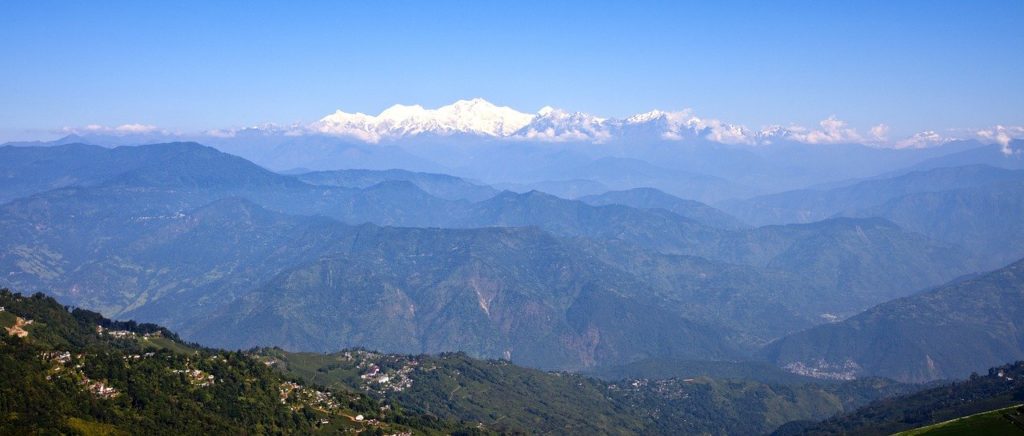 Eastern India has seen a huge influx of sea turtles making their way to beaches across the country to lay their eggs. The freedom from human activity and reduced pollution allows for a safer and more productive hatching season. Thailand's beaches, which have been empty since lockdown restrictions came into place, have seen the largest increase in nests of rare sea turtles in 20 years.
Permanent Change Depends on Us
Perhaps, the most important environmental impact of COVID-19 will likely be on how we humans perceive it. The pandemic has dramatically shown us the deadly consequences of ignoring the warnings of experts. And, of the politics that lead to a delay in taking action. In doing this, we sacrifice human health and our natural world for the economy.
According to the United Nations Environment Programme, of new infectious diseases, 75 per cent come from animals. These diseases now pass more rapidly to humans through wildlife trafficking and deforestation compared to the past. They then spread across the globe via air travel and cruise-ship tourism.
China — the world's biggest market for wild animals — appears to have recognized this by announcing a permanent ban on trade in and consumption of wildlife. That in itself has huge significance from an animal welfare, conservation and human health perspective. Will other nations follow suit? There is also a growing call for a worldwide ban on wet markets.
Human Health Correlates to the Health of the Environment
The pandemic has also shown how pollution directly impacts our health and lowers our resistance to disease. More exposure to traffic fumes means weaker lungs and a greater risk of dying from COVID-19, according to scientists at Harvard University.
There's good news though, as new research from Getty Images shows people are now linking the health of the environment to their own wellness. They found that sustainability searches are up 142 per cent and interest in sustainable living up 201 per cent.
Nature is Sending us a Message
As UN environment chief Inger Andersen said, nature is sending us a message with the pandemic and ongoing climate crisis, that if we neglect the planet, we put our well-being at risk.
"There are too many pressures at the same time on our natural systems and something has to give. Humans are intimately interconnected with nature, like it or not. If we don't take care of nature, we can't take care of ourselves. And as we hurtle toward a population of 10 billion people on this planet, we need to go into this future armed with nature as our strongest ally."
Bill McKibben of environmental group 350.org offers us a challenge: "Following the pandemic, perhaps we will 're-evaluate' whether the satisfaction that we want as human beings comes mostly from contact with other people or from the 'consumption of stuff'."
The choice seems obvious, doesn't it? Will humanity heed the warnings? Each of us has an opportunity to be part of the solution. A solution desperately needed for a healthy future for humanity and the environment.
Which will you choose?
This article originally appeared on Metroland Media in May, 2020.