Watching the ongoing marches for justice on TV, I can't help but think about similar marches in the '60s when I was growing up. The issues we were fighting for then, (civil rights and the environment to name two), are the same issues we're fighting for now. And just like then, it is predominantly young people who are leading the protests, demanding change.
The ability, (or inability), to breathe, has significance on many levels now. We see it playing out in a pandemic that impacts the respiratory system making it hard for people to breathe. In injustices perpetrated on people of colour, often leaving them gasping for breath. Our environment has been exploited by humans to the point where our planet is crying out to breathe too.
Plastic Pollution is Still a Crisis
A recent email from the Center for Biological Diversity opened with, "More than eight million tons of plastic enter our oceans every year, drowning wildlife, polluting our beaches and wrecking ecosystems, with no end in sight." It's a stark reminder that plastic pollution is choking the environment, and in turn is choking us humans, threatening our air and water.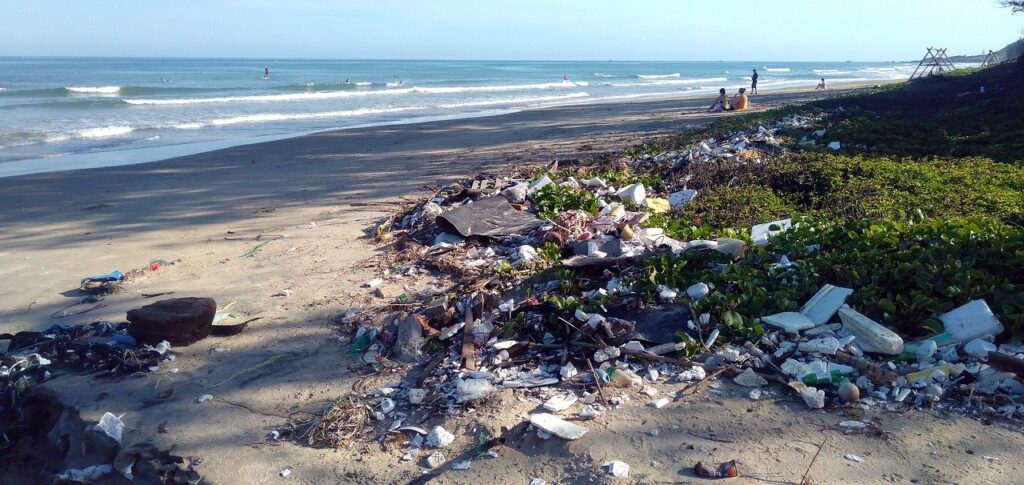 The situation does seem dire. Plus, the predictions are that the plastic industry has plans to drastically increase plastic production over the next five years. However, I have renewed hope when I see a young entrepreneur taking on the plastic crisis in an innovative way. There are a myriad of options now to choose alternatives to plastic in our daily lives. Plus amazing initiatives to clean up the plastic mess we're currently drowning in.
Young Innovator Looks to Nature and the Sea
One inspiring young entrepreneur is Lucy Hughes, who in her final year of studying product design in the U.K., wanted to create a product that utilized waste products while looking to nature for inspiration. It would be an item that fit into her vision of the need for products that contribute to a circular economy — the system where waste, after product usage, is always safely returned to the environment, or used productively in new products instead of being sent to landfill.
The result is MarinaTex, an alternative to plastic made from 100 per cent organic materials, with the main components sourced from the sea, including agar from red algae and fish processing waste. Hughes' innovative product won the James Dyson — International Winner award in 2019.
The product is a bioplastic that biodegrades in just six weeks and doesn't contaminate soil! A home compostable alternative to plastic film. Stronger than a plastic bag, it can be used for a variety of products, too. It's even safe to eat! How amazing to think that the waste from one Atlantic cod can produce 1,400 bioplastic bags!
In Hughes' words, "It's not necessarily plastic that's the problem … It's our overuse of, for example, single-use plastics that might be used for only 10 to 15 seconds before we then have to throw that away."
Plastic Straws Are Still Everywhere!
Having written about plastic straws before, I find it shocking that an estimated 57 million plastic straws are still used in Canada every day! In the U.S., as many as 500 million plastic straws are used daily. By comparison, Australia only uses 10 million plastic straws daily. Yet that was enough to spur young entrepreneurs Jamie-Lee and Lennart, to do something about it. Their company, The Other Straw, was born from their devotion to the ocean and desire to address plastic pollution.
Like many of us, they envision a world without plastic. They hope to help eliminate plastic straws by encouraging the use of their sustainable, reusable bamboo straws. Ethically sourced in northern Vietnam, their straws provide sustainable job opportunities for local ethnic minority groups. Helping to improv the livelihoods and well-being for themselves and their communities.
The company donates 50 per cent of their profits to ocean cleanups as part of their mission. Their impact is impressive. They've diverted 7,500,000-plus single-use plastic straws from entering landfills and our oceans. They've also educated 15,000 individuals and businesses on the impacts of single-use plastic straws and their plastic footprint.
As corporations and governments commit to eliminating plastic straws, there's no longer a reason for consumers to choose anything other than an alternative to plastic!
Intercepting Plastic Before it Reaches the Oceans
The Ocean Cleanup is the brainchild of Dutch inventor Boyan Slat who founded it in 2013 at the age of 18. His vision was to clean up 90 per cent of ocean plastic pollution! A lofty objective, he knew it had to be a combination of closing the source and cleaning up what has already accumulated in the ocean. If you haven't seen their ingenious innovation, watch one of the videos that demonstrates how it works.

Their latest innovation is The Interceptor, the first scalable solution to efficiently intercept plastic in rivers before it reaches the oceans. The theory is that by placing Interceptors in 1,000 strategic locations in rivers around the world, they can halt 80 per cent of plastic from entering the oceans in five years from rollout. Watch how the interceptor will effectively trap the plastic before it ever reaches the oceans.
Recycling Won't Solve the Plastic Pollution Crisis
When it comes to plastic pollution, the biggest challenge is the fossil fuel industry, as 99 per cent of plastic comes from chemicals sourced from fossil fuels. And as we know, fossil fuels are a huge threat to human and environmental health. They are also a major contributor to the global climate crisis.
According to The New Plastics Economy video, only 14 per cent of global plastic packaging is recycled. Only nine per cent of all plastic produced recycled according to National Geographic. These are grim statistics! With the threat of global plastic production increasing by a third in the next five years, it's easy to see why recycling alone won't solve the plastic pollution problem.
The New Plastics Economy from NPEC on Vimeo.
What Needs to Change?
What needs to change? Any solution to the plastic pollution crisis will require an all-hands-on-deck effort. Each of us individually can play our part by committing to reduce our use of plastic in our daily lives, but real change can only come by advocating for responsible production for the entire life cycle of plastic.
Ultimately, we need all government levels to push for extended producer responsibility (EPR). EPR laws require companies to think about the total life cycle of their product. From design to manufacturing, to distribution, to use, and ultimate disposal/recycling.
Holding manufacturers responsible is the only solution. This will disrupt and ultimately change the damage the toxic life cycle of plastic production currently has on our health, climate and the planet.
Are you aware of a young entrepreneur who is innovating new ways to tackle the plastic pollution crisis?
A version of this article appeared on Metroland Media in July, 2020