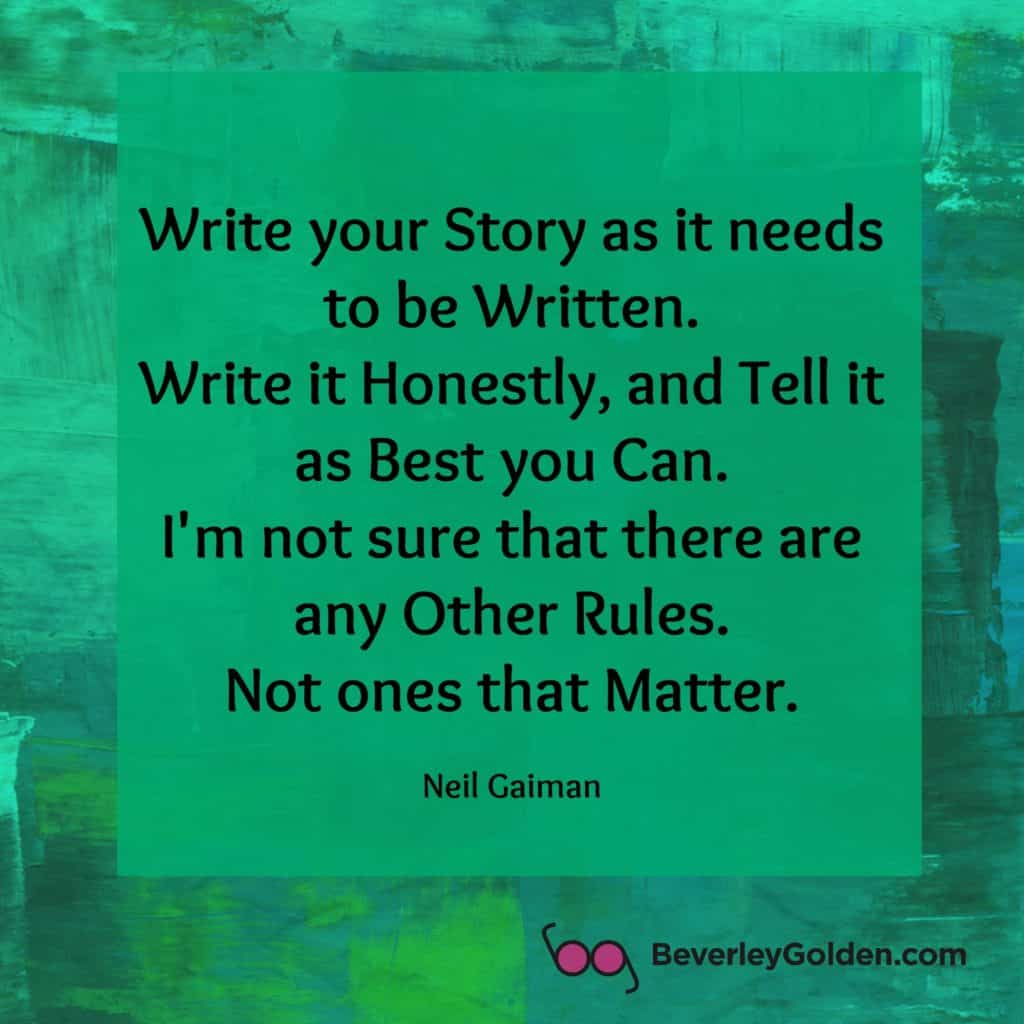 As a writer, my inspiration comes from the world around me. From people and things I observe and engage with. What fascinates me, is how seemingly unconnected events magically come together in unlikely ways. This story was born in exactly that way from three separate unrelated "happenings".
Happening One – The STORY
Saturday morning. I was excited to take a leisurely walk to the local Starbucks for my morning Chai and my daughter agreed to join me with her dog Gunnar. As we turned the corner from our neighborhood to walk along the main street, we noticed what looked like a baby squirrel very close to the sidewalk, only steps from the road. As we got closer, the squirrel ran right up to me, started clawing at my foot and climbed onto it. My daughter had run ahead with the dog, as he isn't friendly to other animals and had been traumatized by a squirrel who got into our house recently.
Although I could sense how frightened this little squirrel was, I wasn't sure what to do, so I guided it away from the road toward the grass on the other side of the sidewalk. An elderly man stopped to see what I was doing and we began a conversation about how we humans have displaced so much of the natural world around us. The squirrel followed us for a bit and I committed to finding a box, and come back and "save" the little squirrel from running onto the road and being hit by passing cars.
As we walked back, we saw a young man on his phone stopped in the place we left the squirrel. The squirrel was now on his foot and wouldn't let go, so we told him we wanted to move the squirrel to a safer place. His mother had been feeding squirrels in their yard, so he believed this little guy might be this friendly because he was being fed by people in the neighborhood. He guessed the squirrel was about six months old. Really?
We easily got the squirrel into the box and my daughter walked it around the corner to a small parkette where it would be safe from the main road. The story could have ended there. It didn't.
The Story Continues
When we got home, I immediately googled "care of baby squirrels" and phoned our local vet to see if they could offer any insights or help. The sad news was all they could suggest was we drive it to a Wildlife Sanctuary about an hour from our home. Then I called the Toronto Wildlife Services Hotline. No-one answered, so I left a message. We prepared some broccoli stems, kale leaves, and walnuts and drove back to take the squirrel the food.
It wasn't hard to find him/her, as he'd already made it back toward the area we found him and was running toward a group of five Orthodox Jewish women on the sidewalk. They "Eeked" when they saw it, and we told them what we were doing. Did the squirrel recognize us, as he quickly settled on my foot again while my daughter ran to the parkette to retrieve the box? My daughter stroked the little squirrel's back to comfort it and we got it and some food into the box so we could carry it back to our car. What do we do now?
What Next?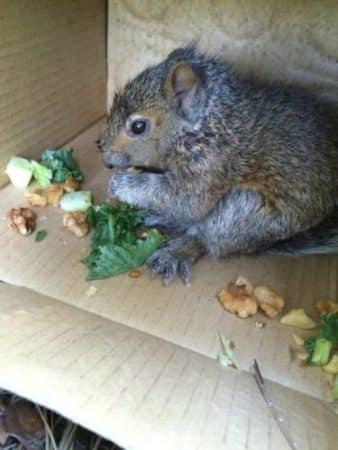 We started driving towards a large park close to our home, with the intention of finding a safe place for him there. My daughter's friend who works at the zoo happened to call and was also unsure what to advise us. We drove around for about ten minutes, debating if we should take the squirrel to a more enclosed and wooded area farther away. Then I said it might be better to have the squirrel close to our home, so we could watch out for him. Would that even be possible? We turned around.
We parked in the community center parking lot and cradled the box as we carried it into the park. It felt important that we continue giving bits of food to the squirrel through the top of the box. We found the densest treed area we could and chose a secluded spot under some trees. When we opened the box, the little guy was munching away on the walnuts and broccoli and seemed content in his little enclosure. We looked for some evergreen branches to camouflage the box. I'm not sure why. My daughter felt we had done all we could do for now and we headed home. She was ready to let go of the story. Apparently I was not.
Plot Twist
Just as we arrived home, the phone rang. It was Toronto Wildlife Services calling me back. I asked lots of questions. No, squirrels don't adopt other squirrels as they are relatively solitary animals. He was now on his own without being properly weaned from his mother. Maybe he had 24 hours to survive and they strongly suggested we take him to a vet to euthanize him or drive the hour to the Wildlife Sanctuary. Neither seemed like acceptable choices.
I felt crushed! Because of our lack of information, what I thought was the right thing to do, might not have been. She went on to tell me I'd left the squirrel to a painful death and subject to predators. Isn't man the biggest predator of all to the natural world?
Immediately I called the Wildlife Sanctuary and she said to bring him in, as they rehabilitate baby squirrels and then release them into the wild. They had a 150 there already. We'd sent her a picture, as she asked if he had a bushy tail. It seemed bushy to us, but when she saw the picture, she messaged my daughter that he needed to be brought in to be cared for. We were committed. We rushed back to the park, now ready to take the two-hour drive there and back to save the squirrel.
The Story Shifts Again
We arrived at the park and carefully approached the box. He wasn't there. My heart sank. Had we doomed him? We took off in different directions to find him. We searched around the park for an hour, even going through the neighborhood behind the park to see if he'd squeezed under a fence where the homes were. They had told me that when a baby squirrel so eagerly approaches a human, it's a last ditch effort to survive. They aren't aware yet that humans aren't to be trusted and can be dangerous.
My daughter remained outwardly very Zen, continuing to encourage me to let it go and trust the outcome. We'd done the best we could. Easier said than done for me.
I've continued to return to the park to look for "Bubba" and leave food in the box. Isn't it curious that we humans feel compelled to name everything? On the second day, I was excited to see the food was gone. Although I had no idea if it's "our squirrel" who's eating it. Wishful thinking.
Happening Two – ART as a Lesson in Rightfulness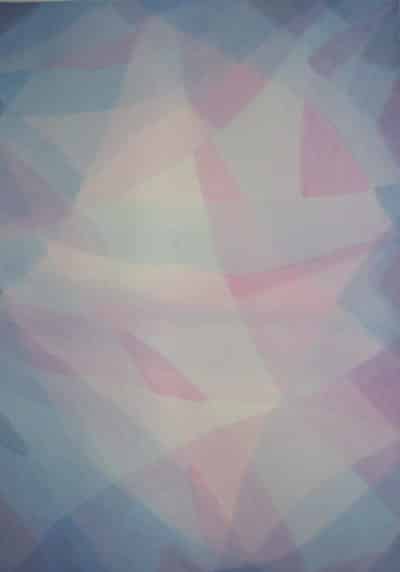 The following Friday, the art group I'm part of, started up again. It's a comfortable group of regulars, with some new people this session. At the end of the class, several of the new people were questioning the Veil painting process, wondering if what they were doing was right or wrong. I listened, as I've learned when it comes to art, there is no right or wrong.
Our facilitator Jef spoke about "rightfulness". Of making a choice in the moment that is neither right nor wrong. It just is. That stayed with me. At the end of the class, I approached him to discuss if this applies everywhere in life. Of course, it does.
Blurting out a very short version of the squirrel story, I said I've been tormenting myself, not knowing if, in my attempt to rescue the squirrel, I did the right thing or not. Feeling guilty and consumed with not knowing the outcome. His reply was gentle. "We don't know what the story's ending is." Of course, we don't.
Isn't it just like us humans to want to know the (happy) ending? To want a neat and tidy outcome. As a writer who sees the world through rose-coloured glasses, I'd already envisioned a heartwarming children's story that ends with the child and the squirrel somehow finding each other a year later.
Happening Three – A STORY is a Living Being
As often happens, the third piece of this puzzle took place the day after, while attending an experiential gathering for Biology of Story. It's an expansive initiative, an interactive online documentary about "how we work with story, and how story works with us".
The brainchild of film director, screenwriter, author and teacher Amnon Buchbinder, he's assembled a vast, archive of filmed insights from those who work with story in a wide range of fields: screenwriters, novelists, storytellers, physicians, clergy, scientists, journalists, lawyers, and more. The intention: to explore "what is story" and how "stories work upon those who create and/or tell them ("authors"), as much as authors work with their stories."
Here's what wove everything together for me. In his clip, "Stories Are Living Beings. Period.", James Sinclair, Professor of Native Studies, discusses the Anishinaabeg and their understanding of story, story as a tool of relationship, and the agency of living things. This spoke volumes to me. "An eagle chooses to fly in front of you; a rock chooses to enter your hand. Yes, I chose to pick up the rock, and yes, I see the eagle, but the eagle and the rock are as much a part of the story, as we are. The story will choose to be with you, but you have to choose to pick up the story."
The Light Switch Flips On
In that moment, it was like a light switch flipped on for me and I understood completely. The squirrel had shown up to offer me an opportunity to engage in the story. No one else who walked by the squirrel that morning chose to involve themselves the way my daughter and I had. The story had chosen us, and we chose to pick it up.
We kept the story alive by going back to give the squirrel food. The fact is, I have no idea how the story ultimately played out. There are many possibilities. Maybe the squirrel didn't survive. Maybe some other person chose to feed him as we had. Or maybe someone found him and drove him to the Wildlife Sanctuary. Did the story continue? The compassionate animal lover hopes that someone else chose to pick up the story after it left us.
Saying, "Yes" to The Story
It was a profound reminder that we're offered this opportunity to engage with the world around us all the time. Do we say, "Yes" to the stories that show up for us? Are we so caught up in the meaning we inject into our lives, that we lose the objectivity to see the multitude of choices we're presented with? Are we so interested in perpetuating our stories that we don't let them go to live on apart from us? Can we approach life from a creative place, allowing new stories to emerge? So many questions.
It's a week-and-a-half since this story started and I've let go of knowing the outcome, blessing the squirrel to continue on his journey. Although I did go back to the park today to leave more food in the box. Just in case. Ever hopeful.
What part does story play in your life?