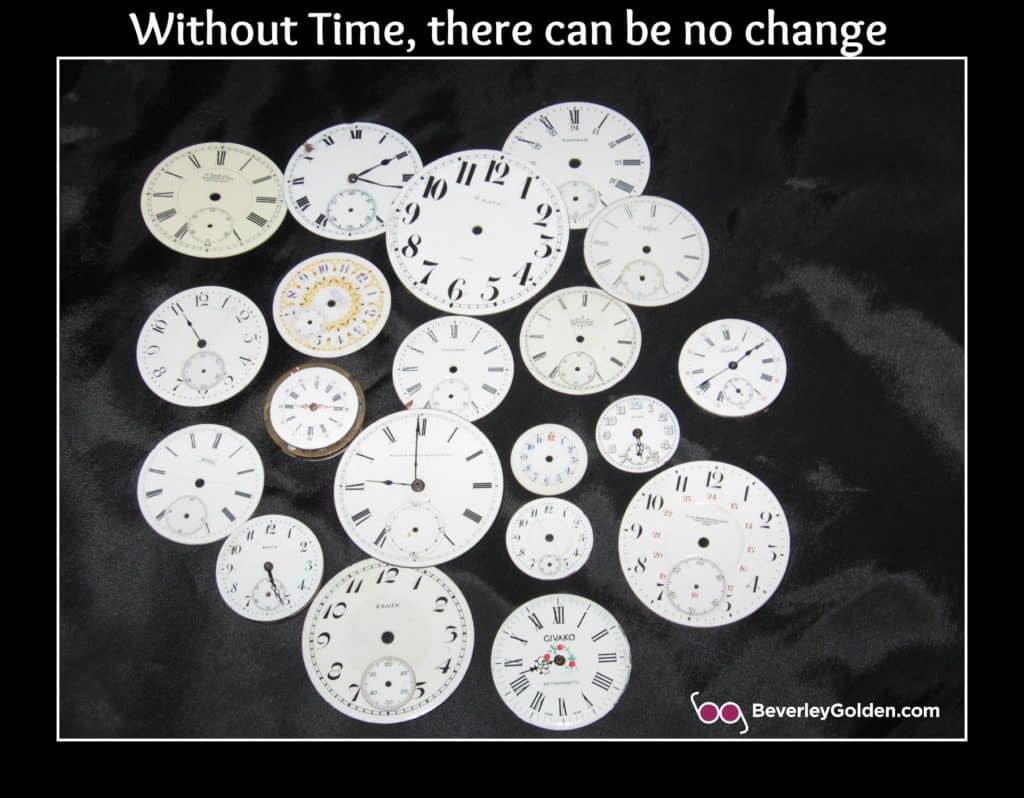 The idea of "time" has remained a mystery, yet holds an intrigue to mankind. One of the earliest things we learn to do is to 'tell time,' yet as we get older we often feel that we are 'running out of time'.  When we fall in love, it feels, 'timeless,' or we call a chance meeting, 'perfect timing'. Whether time is on our side, or not, our lives indisputably revolve around the concept of time. Without time, there can be no change.
Fascination with Time
Personally, I've always had a deep fascination with time and how it influences our lives. On a trip to California in the early 1990s, I happened on an artisan street fair and was captivated by one designer's "time" pieces, which were designed from discarded CD's and old watch parts. Of course, I bought one to bring home, and the idea stayed with me. When I returned to Toronto, I was inspired to 'borrow' the idea and began designing my own recycled watch part jewelry. The fact that all of my creative endeavors up to then had been performing or writing, didn't stop me.
So many people told me, "You'll NEVER to be able to find enough old watch parts to sustain your designs." Challenge accepted.
By the time I stopped designing, I'd taken apart, (with the help of my former husband), thousands of old unrepairable watches. When I finally sold many of the remaining parts to a practicing watchmaker, I'd venture to guess they numbered in the millions.
The Beauty in Time Pieces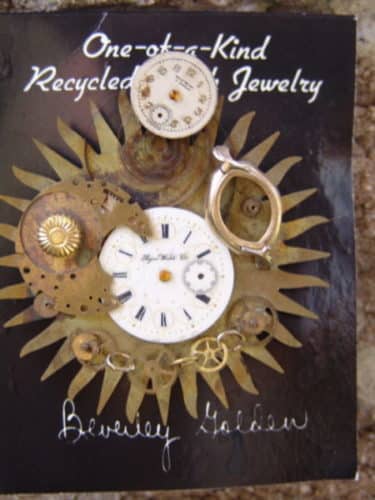 What struck me was the beauty of the parts, especially the older timepieces with their ruby or diamond movements and handcrafted faces. I was always curious about the story or history behind the watch piece and realized there is a whole psychology around the idea of time.
I've even kept hundreds of old never used samples of watch faces, simply because I find them beautiful to look at. Inevitably I found that both women and men were equally attracted to my designs. This, I believe, is because most of us have an attraction and curiosity about time. It supersedes gender.
Even now, you'll never find me without a watch on my wrist. When I was rather serendipitously approached by the JORD watch company, asking me if I'd like to participate with them to spread the word about their watches, I was intrigued and visited their website to see what they were about.
Commitment to Quality Wrist Watches
Their mission statement spoke to the creator and artisan in me. "JORD is run by artists, designers, marketers, and minders. We spend our days creating, considering, arguing, and hopefully agreeing. Then we'll scrap it all for the joy of starting new. We have fun. This is our journey." You can probably see why that alone captured my curiosity.
As if that wasn't enough, this resonated with me and made the only answer a resounding "YES." "We are focused on creating timepieces that are modeled after a modern lifestyle. We value sustainability, efficiency, and experiential living. We make our watches for people who don't just have somewhere to be, they have somewhere to go." I really got this.
Philosophy Behind JORD's Unique Watches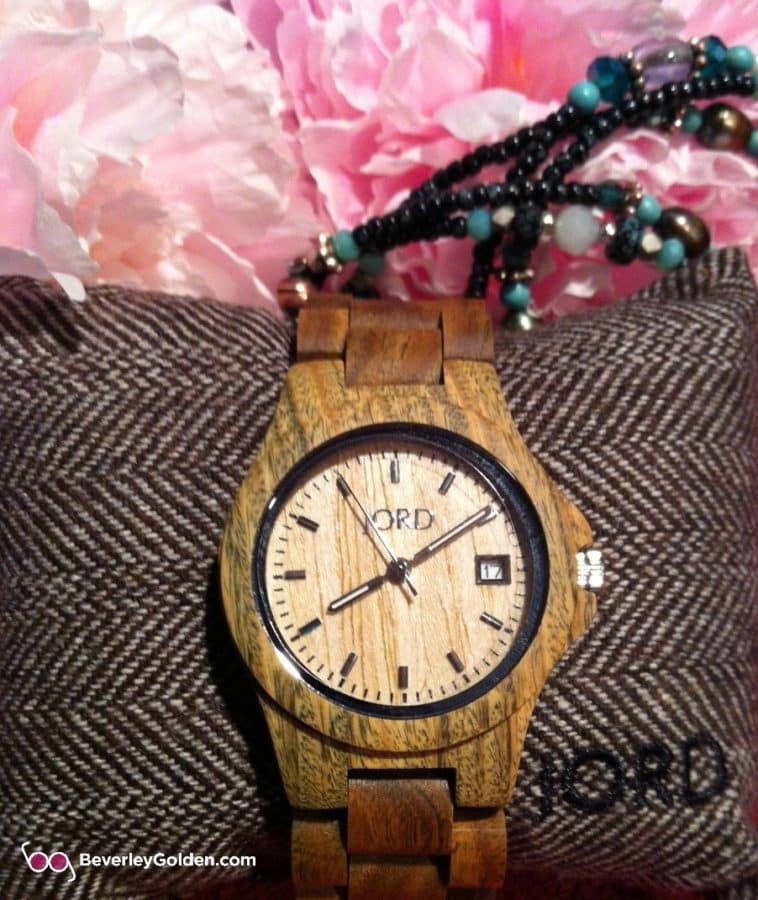 Moments are bigger than minutes and your watch should tell more than time." That clinched it for me.
While looking through all of their women's watches, I was attracted to the Green Sandalwood and Maple because of it's unusual look. What's fabulous about all JORD watches are their real wood watch bands, each very unique and different from the other.
Women's Watches with Real Wood Bands
The wrist watch I chose is made from natural green sandalwood and maple, hand finished and pretreated with tung oils. Although "The Ely" is splash-proof, it's recommended not to submerge it in water. They're easy to maintain, as they suggest lemon or orange oil extract is best for cleaning the natural wood.
Similar to all of our precious jewelry, the best way to store your watch, is by avoiding extremely hot, cold, and excessively dry/humid environments. Something my friend Roslyn Tanner Evans, who designs gorgeous jewelry inspired by nature, had told me before. It was challenging to choose just one, as all of their women's watches are equally stunning! There are definitely several of the ladies watches that caught my eye and I kept thinking they would make incredibly unique gifts. For women or for men.
When I received the watch, I was struck by how much more beautiful it is than I imagined. And, it's incredibly light weight. Something that surprised me considering the real wood watchband. The Swiss movements and sapphire glass that JORD uses in many of their watches also harkens back to quality craftsmanship of years gone by, made modern for today's world. It took me back to my years designing recycled watch part jewelry and I dug out some of the old watches I still had. Just to admire their beauty again.
Cool and Creative Gifts
Another thing I appreciate about JORD is how easy they make it to own one of their cool watches. Until July 10th, they're celebrating summer with a giveaway. One winner chosen at random by their computer will win a $75 e-voucher. Everyone who enters (excluding the winner) will get a $20.00 e-gift card that can be applied to any watch on their website!  A unique summer gift for yourself or someone you love perhaps?
Thanks to JORD for finding me and helping to bring back so many happy memories of my days designing recycled watch part jewelry. I'm curious. Which of their women's watches caught your eye? What is your relationship with time and are you as fascinated by time as I am?
p.s. Don't forget to take a chance at winning their summer giveaway too!