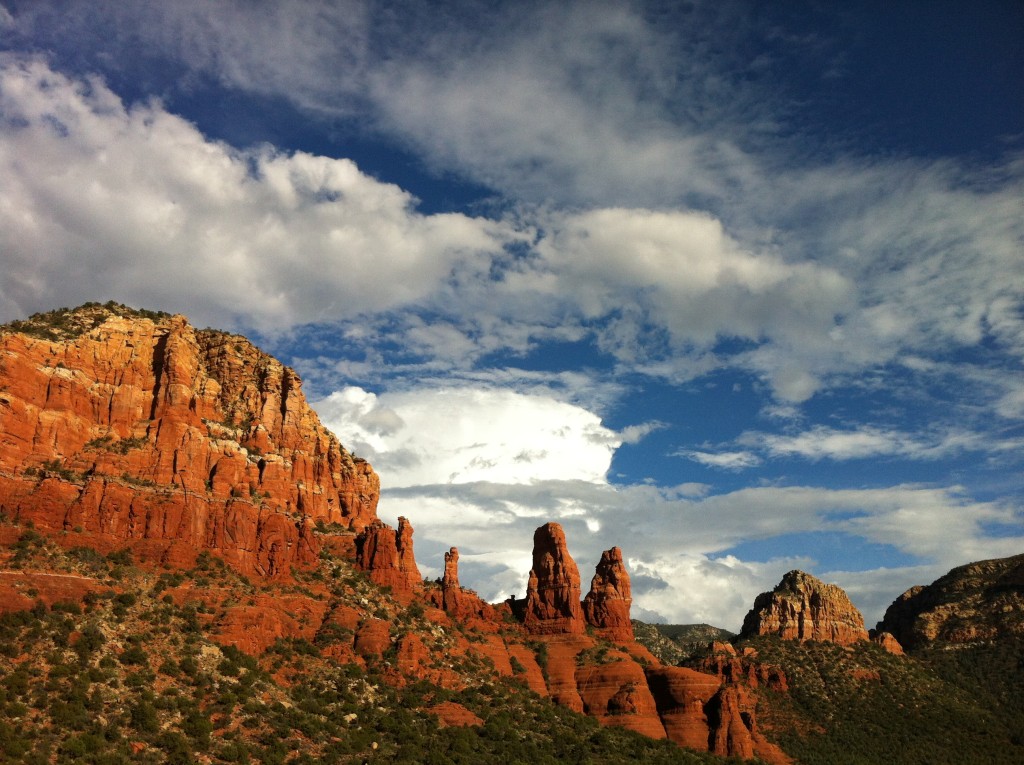 There is always one bittersweet moment each time I arrive in Sedona, knowing I will have to say goodbye again. The first time I laid eyes on the exquisite scenery of Sedona, was back in the mid-1980s when it was still somewhat of an undiscovered paradise.
With a breathtaking landscape that melds both desert and forest vegetation, I immediately fell in love with its majestic beauty and splendor. Although it would be almost 20 years until I returned and much had changed in the name of progress, for me, actually nothing had changed at all.
A few hours drive north of Phoenix, it is one of the most spectacular and awe-inspiring of all the places I've traveled to. And I've been privileged to travel far and wide in my life. Sedona is as close to heaven here on earth as I think I've ever experienced.
Indescribable Beauty
It is always challenging to try to put into words something that can only truly be experienced firsthand. From almost the beginning of your drive up Highway 179, the magnificent Red Rocks soar above the lush landscape. They are quiet and still, reminding me that there is something much grander and wiser than I am. This is nature in its most glorious, timeless state. The stunning array of red sandstone rocks always leaves me speechless. There is no way to explain how I feel, other than to say it is simply breathtaking. Everyone I've ever talked to about Sedona has either felt this when there, or heard the same thing about it.
There is a quiet, inner peace I feel in this place. It has been revered by Native Americans for thousands of years, for both its sacred nature and for its very high spiritual energy. Regardless of your beliefs, the word 'spiritual' takes on a rather individual meaning in Sedona. I feel this every time I am there. It offers me a lightness of being, feeling as if time is standing still and that nothing "out there," nothing but this moment, really matters. This is a state that often eludes me in my day-to-day life, yet I find so effortless to achieve while there.
Chapel in the Rock

A favorite place I return to each time I'm in Sedona is the legendary Chapel of the Holy Cross, also called the Chapel in the Rock. I've met and talked with people from all over the world when I'm there. Universally, regardless of religious background, they are touched and humbled by its serene yet profound presence. The magnificent structure is built literally in the red rocks, a vision of sculptor Marguerite Staude who was determined, despite obstacles, to bring it to life. Each time I visit, I am again overwhelmed by the incredible beauty of both the Chapel and its stunning surroundings. An absolute must-see.
What do people do in Sedona? Everything! Whether you like to hike, bike, play golf, try a jeep tour into the red rocks, fly high in a hot air balloon or shop for wonderful local jewelry and crafts, all this and much more are within a few minutes drive. Some of the most intricately beautiful jewelry I have ever seen, especially hand-crafted turquoise created by native Navajo artisans, comes from Sedona.
The city of Sedona is somewhat unique, in that it has virtually no street lights. What an absolutely wonderful way to see a dazzling night sky, filled with seemingly thousands of stars. A site I have rarely witnessed in big cities.
Energy Vortexes
Sedona is very well-known for its powerful energy vortexes. Sedona is known as a spiritual power spot. A vortex site in Sedona is a place where one can feel Sedona's spiritual energy most strongly. By definition, a vortex is, "A place or situation regarded as drawing into its center all that surrounds it." A great way of describing what I feel when there. I'm drawn in and never want to leave. Taking a tour of the four primary vortexes offers quite an indescribable and powerful experience.
Having been to Sedona at various times of the year, I've enjoyed the changing seasonal weather and landscape. My favorite time is September or October. Incredibly perfect for both an avid cloud watcher like myself and for swimming and catching some stunningly clear sunny days.
It is said that for hikers, which I am, there are enough hiking trails that you could do a different one every day for four years and still not run out of trails to enjoy! And you always meet such interesting people from all over the world while hiking.
It seems as if fall will never come to Sedona. But it does. I've also visited in December when the two-and-a-half hour drive to the Grand Canyon found us in a full-blown snow storm.
Grand Canyon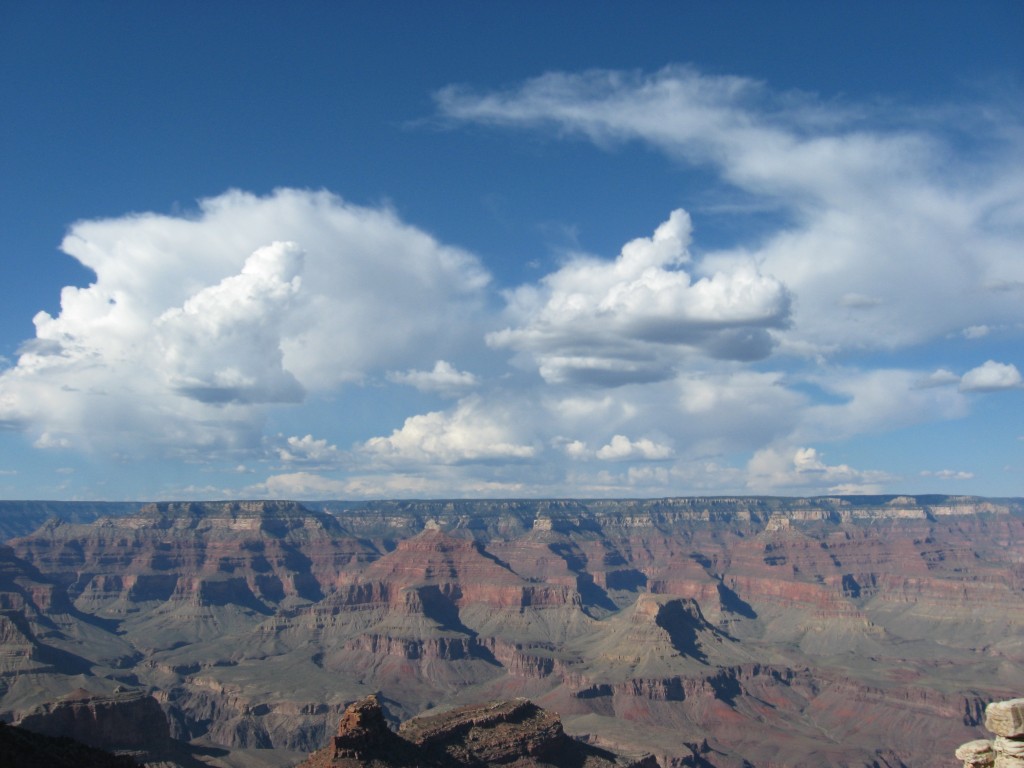 What can I say about the Grand Canyon, other than that a trip to it is an amazing adventure, an opportunity to see one of the extraordinary seven natural wonders of the world. Only by experiencing it, can you truly understand why it has fascinated writers, painters, photographers and explorers since it was first discovered. Although many have tried to capture its essence, it has a timeless and elusive quality. Once you visit, you understand why it is virtually impossible to describe. Truly beyond words.
The day we visited, a lone California condor, an endangered species, put on quite a heavenly show for us as we hiked along the south rim. Swooping close enough for us to almost touch it, and then just as quickly soaring away to wow other visitors. It was a spectacular and entertaining show indeed. Indescribable and majestic. The kind of stuff lasting memories are made of.
Hello and Goodbye Sedona
It's time to say goodbye again to Sedona, following a glorious and perfect two weeks here. Breathing in all the energy of the early morning serenity, I take my last solitary walk. I feel a sense of sadness because I never know for sure when I might return. I just know that I will. After all, there are still far too many things for me to explore here. So, until we meet again Sedona, I gratefully bid you farewell.
What are the places you've visited that have left you with lasting memories?
p.s. 2016: Having just returned from my tenth visit to Sedona, I can honestly say I never tire of it. I realized this time how traveling to somewhere that uplifts and reenergizes us, is part of healthy lifestyle choices.
Our health and vitality are so very influenced by every lifestyle choice we make for ourselves. If I can support you in any way, please reach out so we can create a customized, individualized health program designed for you. You can begin with the True Health Assessment and see how healthy you are with your lifestyle and nutritional choices. Look forward to talking with you soon!