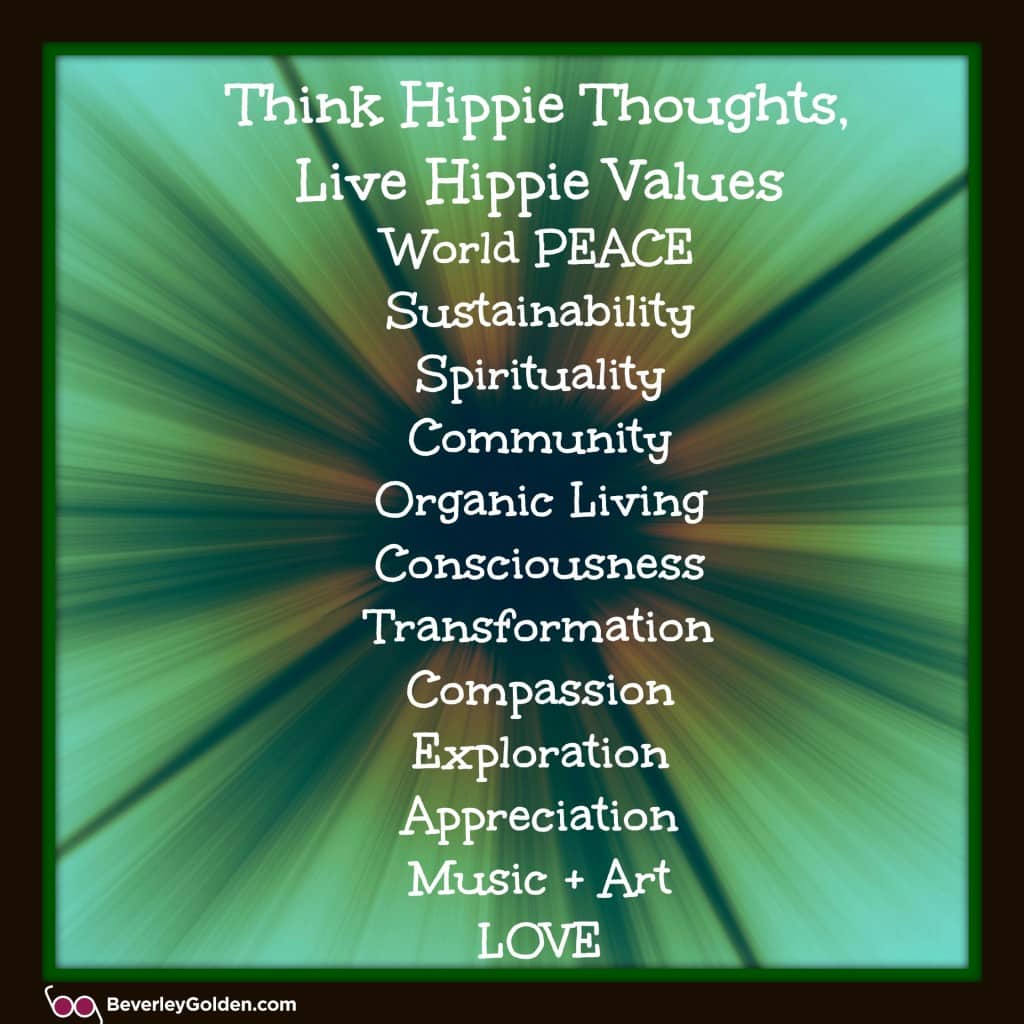 Since the release of my book, Confessions of a Middle-Aged Hippie, I've been sharing with as many people as possible that we are all hippies. People often turn up their nose and say emphatically, "I'm not a hippie." I smile. Hippies were counterculture, revolutionaries who stood for peace, love and changing the world for the better. Radical for the time. Seems we are still having the same conversations five decades later.
When I first told my brother the title of my book he hesitated before he said to me, "Beverley, I don't want to upset you but you weren't really a hippie." I was shocked, as of course I always saw myself as a hippie. This was a big aha moment for me, as it helped me clarify a very essential "hippie" distinction.
Hippies were known to live alternative lifestyles, (which I definitely did not do), and maybe this is why so much of the hippie legacy has to do with lifestyle choices. The "sex, drugs and rock & roll" stigma. I realized that my kind of "hippie" is less about hippie in a lifestyle sense, and more about hippie at a core value sense.
Hippie Values
Hippies stood for the key values that are currently part of our popular cultural conversation. Do you live from a place of gratitude, with music and art an important part of your life? You are a hippie. Do you see how being part of a community and of service to others, is fulfilling why we all are here? You are a hippie.
Do you meditate, do yoga and continue to do inner transformational work? You are a hippie. Are you a seeker, exploring spirituality and contributing to being a CO-creator for a conscious planet? You are a hippie. Maybe you value organic living and sustainability and are compassionate, showing reverence for all living creatures. You are a hippie. This is my kind of hippie and why I believe that at the core of who we are as human beings—we are all hippies.
Music, Art and Community
As I reflected a bit more, I remembered the famous "Summer of Love". The 1967 convergence of 100,000 plus people on the Haight-Ashbury district in San Francisco is credited for having initiated a major cultural and political shift in the world.
It was a revolutionary time, with the energy and excitement of the era translated to the world in many ways, most memorably, through the music of the times. Back in the 60s, we lived sharing music and art when coming together in community. Groovy.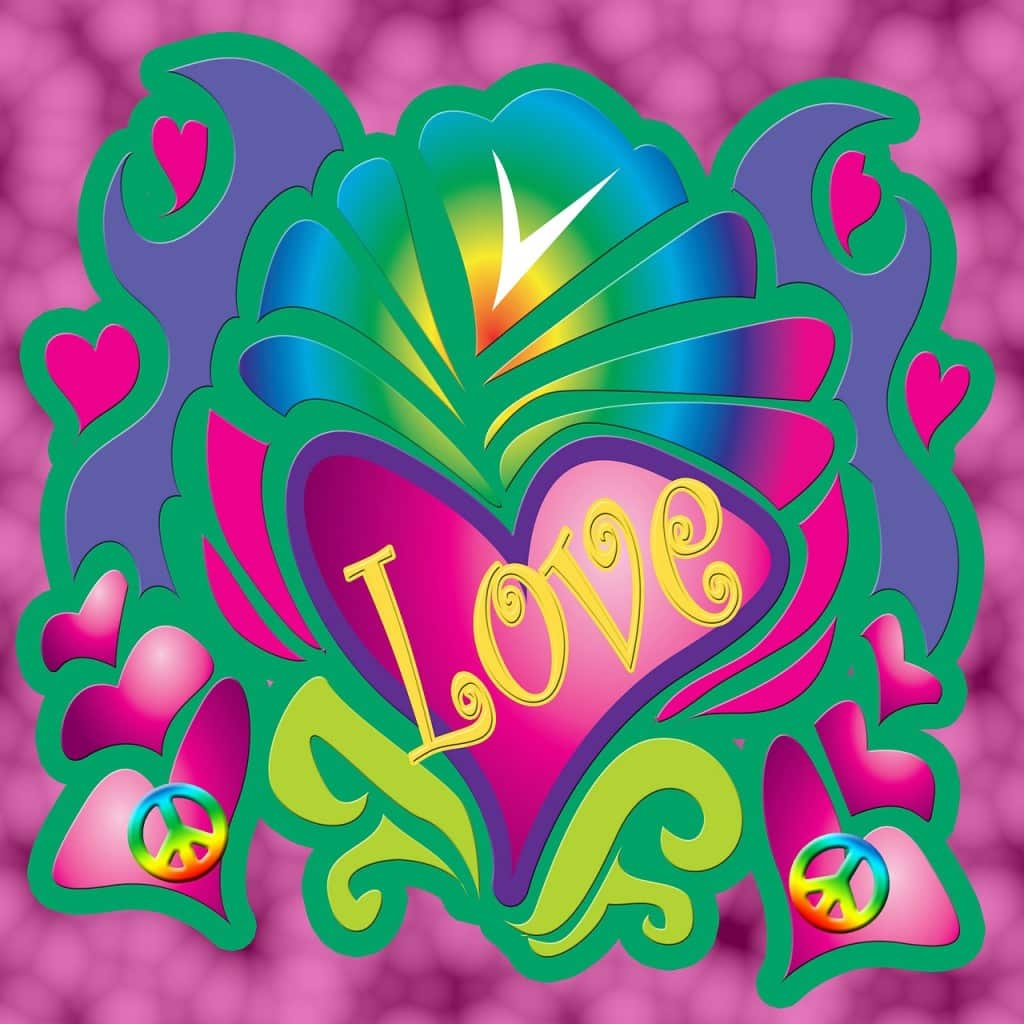 Revolution and Change
For me, the interesting parallel between the 60s and our current times is actually written in the heavens. Back in the mid-60s, Uranus, (planet of revolution, rebellion and sudden change), was conjunct Pluto, (planet of transformation, rebirth and breaking with tradition), igniting an inescapable time-release charge of radical transformation in both our culture and us as individuals.
Before this time, the human potential for enlightenment of "all people" had been reserved for an occasional saint or guru. Back then, this taste of expanded consciousness germinated a cultural seed, giving birth to a new kind of individual. Suddenly it became an expansive possibility for everyone. Hippies were the first to get it. Right-on.
Astrology Explains Why
In my understanding of astrology, what happened during the conjunction of Uranus and Pluto in the 60s would manifest globally when these two planets reached their first square. For those who aren't aware of it, we've just emerged from a three-year period where we experienced not just one, but seven exact squares of Uranus and Pluto. It began in June of 2012, with the last of the seven exact squares in March 2015! Supercharged times of revolutionary and sudden changes at the core level of both individuals and institutions.
If Pluto is about slow and gradual upheaval, Uranus is about revolution and sudden change. We are seeing the impact of these two planets squaring each other everywhere. From social revolution on the streets, to civil rights, gender issues, ecology, political aggression and power structures. We have the opportunity to deconstruct what was and rebuild what we want our world to be. Where have you felt this in your own life?
Where Have All the Hippies Gone?
People often wonder where all the hippies have gone. There are many of us who live in big urban centres and carry the values into our daily lives. There are non-urban Hippie communities thriving across the nation as well. This fun read on 10 of America's Hippie Hideouts, brought some unexpected smiles. From California, Arizona and Oregon, to Arkansas, Montana, New York and Vermont, hippies are alive and well. They are still influencing the planet by living both the conscious lifestyle and the value system birthed in the 1960s. As it turns out…we're everywhere! Very cool.
Hippies became lawyers who sued for protecting air and water quality and for damages from chemical pollution. They began changing the world by starting companies that produced products that were Earth-friendly, ecologically sound, technologically advanced and socially conscious.
My trips to Portland found it as a progressive hub of this energy, with the "hippie" values alive and flourishing. And it's spreading out into the world at gatherings of people like the World Domination Summit, which I've been fortunate to attend twice.
Hippie Power to the People
The hippie values continue to live on in growing communities like WDS. "Hippie" as an ideal, is for people of all ages, all ethnicities, from all backgrounds. Remember the brilliance of John Lennon, a committed peace pioneer, and how he infused the cultural consciousness through love-ins, sit-ins and peace-ins? He understood that the power is with the people.
Each of us individually can use our voice for change. The true power comes when we unite in like-hearted communities to bring this change to fruition. Maybe more so than any time in human history, we can all contribute to making a difference. The Internet, even with all its failings, is a great igniter and unifier. What ways do you see yourself as a "hippie"? Peace-Out!