For the last two years in early July, you'd find me joining committed fellow change makers, in the vibrant west coast city of Portland, for the annual World Domination Summit, the brainchild of world traveler and confirmed non-conformist Chris Guillebeau.
This year I chose not to go, feeling some sadness at missing the energy and camaraderie the weekend brings. My excitement was ignited, when rather synchronistically, an invitation arrived to speak with one of this year's keynote speakers, Saki Mafundikwa. A chance to have a personal conversation with him about his WDS talk, his life and his passion. Make that his Visionary Life Mission.
Who Says You Can't Go Home Again?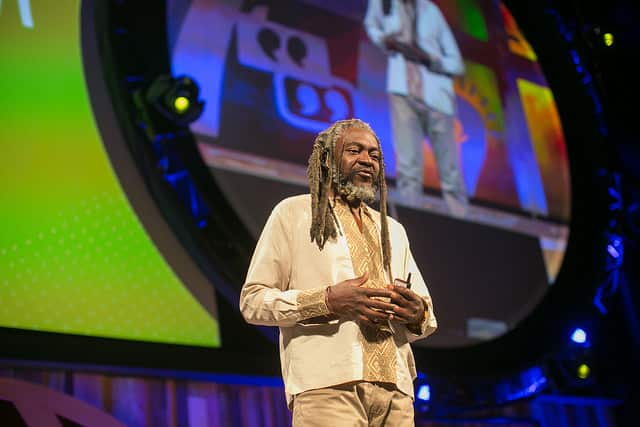 There are people who believe you can't go home again. Saki Mafundikwa isn't one of them.
Born in Zimbabwe, he exhibited an extraordinary talent for drawing from an early age, yet his options appeared limited, as the idea of "design" was unknown.
Forced to flee to Zimbabwe in the late 1970s at the height of the civil war, he found asylum in neighbouring Botswana. He lived there for a year as a refuge, aware that he may never be able to go home again.
His drawing talents and high academic achievements landed him an undergraduate scholarship to study at Indiana University, choosing the double major of telecommunications and fine arts. Two professors in the design department recognized his unusual talent and rich design heritage and invited him to study graphic design, a direction he willingly embraced.
Less Is More
Yale, with its Swiss sensibilities and its "less is more" modernist approach beckoned, and Saki received a full scholarship, earning his MFA. New York was his next stop and the unfolding media boom made this the right place at the right time for his career to flourish.
His varied experiences included stints at Random House plus time at Cooper Union teaching Experimental Typography. Saki's renewed discovery and love of native African languages and its script, led him to collaborate on the team developing the Fodor's website. Life was very good indeed.
The Visionary Goes Home
After 12 years in New York, Mafundikwa intuitively knew it was time to finally go home again. At the end of 1997, leaving a very comfortable life in the U.S., he packed up his family and went back to Zimbabwe to open ZIVA, the Zimbabwe Institute of Vigital Arts.
Why "Vigital"? It's a word of his own creation, visual arts taught with digital tools. Embodying the motto "evolve or die," he believed the digital age was a way for his country to catch up with the world and jump-start an African renewal. Interestingly, ZIVA in his native Shona language means "knowledge."
His former CEO at Random House generously offered to help, sending a 20-foot container filled with books and old computers back to Zimbabwe to support his new school.
No Accidents in Life
During our conversation, I quickly knew that we speak the same language. The language of belief in something higher than coincidences or accidents. A belief and trust that we are being led synchronistically where we are meant to go.
In an impassioned voice, he told me he's always followed his inner instinct, staying open to unseen frequencies that make him aware of something grander than himself. When I told him that I see his journey as a spiritual quest, he agreed. This path is something he was born to live.
The Turning Point
So what was the turning point that had him finally choose to return home after 20 years away? He told me that somewhere within the depths of his being, he always knew he would go back home. Not just return, but be someone who contributed solutions to the country's continuing problems.
While reflecting further on his journey, he admitted that had he not left home to discover himself, he would never have become a graphic designer, or discovered the African alphabets which have become so integral to his work.
And he would never have written his anecdotal and entertaining book Afrikan Alphabets, which combines his fascination with technology and interest in the rich cultural and artistic history of the native African languages.
Zimbabwe Institute of Vigital Arts
ZIVA is small. It currently has 12 staff members and 18 new students each year, its maxi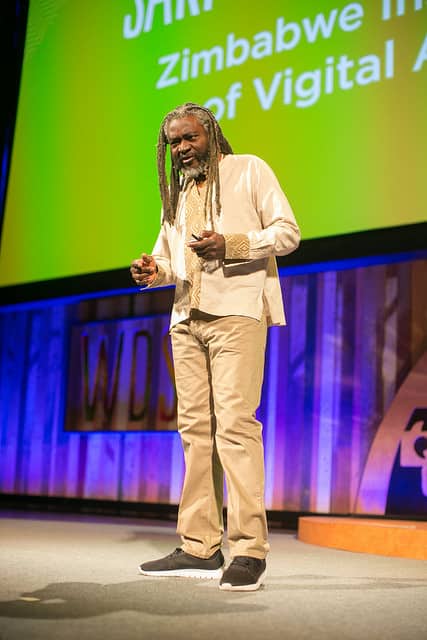 mum student base always 36.
At first the parents of black youth, remained skeptical about their children embarking on a design career. His ratio of white to black students, 95 per cent white to 5 per cent black.
That's evolved over the years and completely reversed. For many students, it's the first time they've ever sat side by side with someone of a different race. And the talent ZIVA is turning out is gaining recognition, particularly in South Africa, who frequently offers praise for his outstanding graduates.
Through the school, he's managed to illuminate graphic arts as a viable career path for talented Zimbabwe youth who possibly would never have found it on their own. Saki himself, had only discovered it by leaving home and going to the U.S. Now they learn design on their home turf, and are encouraged to venture out, discover themselves and their passions as he did, to bring their experiences back home.
Cartoons, Comic Books and Animation
When Saki noticed that many young Zimbabwe children are keenly interested in cartoons and comic books, he envisioned expanding ZIVA's curriculum. He understood that steering his students in a direction where they created their own way of storytelling, was highly possible through animation. How would he manage to do that?
Synchronistically, at his 2013 Ted talk, someone who admired his work, suggested an introduction to the people at Autodesk, a world leader in animation software. Saki had longed for their Maya software for ZIVA, however, with no funding and money scarce, this had seemed virtually out of the question.
Autodesk to the Rescue
Autodesk to the rescue. They donated not only the much desired Maya software to ZIVA, but full access to all their professional 3-D design software and learning content, as they now do to all middle schools, high schools and higher education institutions in Africa.
This partnership has proven invaluable, allowing ZIVA to build a full-fledged animation department, propelling its students into potentially the same league as millions of professionals who currently use AutoDesk software.
His belief that animation has a universal way of communicating to people, keeps him excited about the possibility that his student's work will reach farther and wider. He inspires them to craft stories and feature films with their own African characters. Projects that can make waves globally, yet are uniquely African in content.
What's Your Vision for the Future?
When I asked what his dream or vision for the future of ZIVA is, he laughed, saying "To become a full-fledged university with international recognition." I laughed with him. Of course. Visionaries on a mission see a bigger picture and manifest on a larger scale.
As a man, Saki wears many hats. He finally recognizes how they interconnect and contribute to each other. Who is Saki Mafundikwa? Graphic Designer, Teacher, Design Thinker, Author, Filmmaker and Organic Farmer. Marry them together and you have Saki the man, and Saki the visionary.
World Domination Summit Experience
With our conversation coming to a close, we circled back to his time at WDS. Still fresh from the experience, he sounded enlivened, still processing the wealth of input he received from the other speakers and the enthusiastic, embracing attendees.
We both laughed again, when he observed that they completely got him and the many facets of who he is in the world. Of course they did. They're living it too. They're each in their own way committed to forging uncharted paths the way that Saki Mafundikwa is.
Out in the world living life to the fullest, proudly representing the WDS mantra of Community – Adventure – Service. Saki resonated with them and they resonated with this visionary man and his mission. No accident here. No accident at all.
Photos courtesy of Armosa Studios