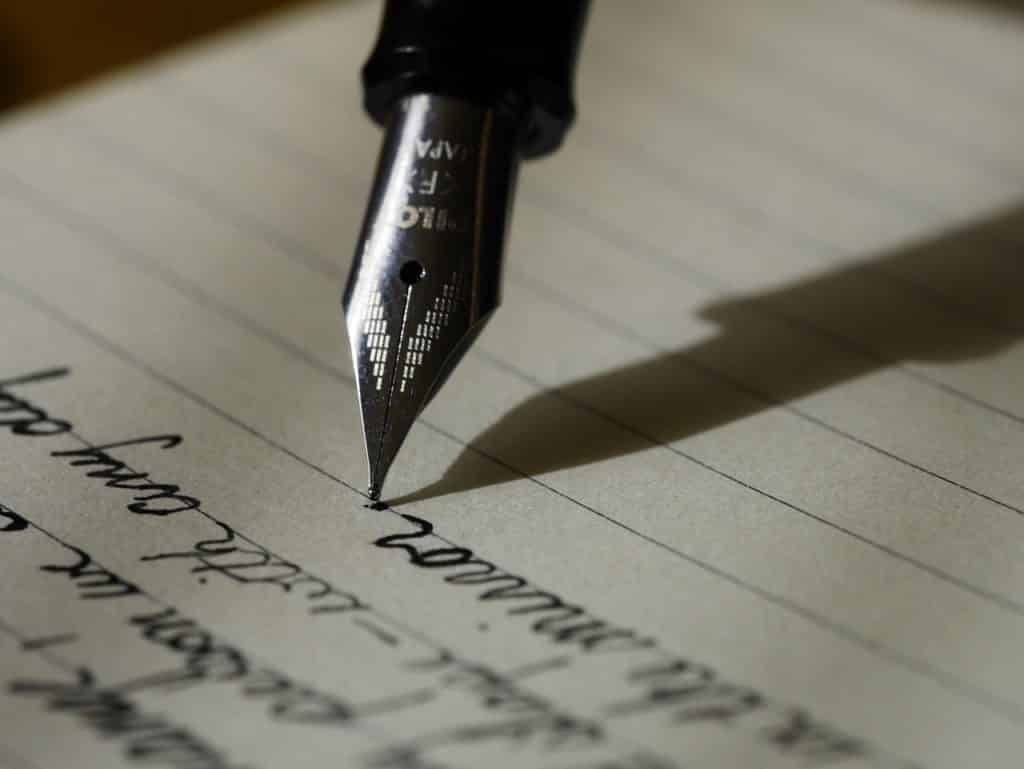 There are a few things in this world I have a deep reverence for. One is nature. It always leaves me in awe of both its beauty and its intelligence. Nature inspires my writing and my art.
As a writer, I also have great reverence for the written word. Both figuratively and literally. The fact is, writing by hand offers many benefits to mind, body and soul that typing on a keyboard simply does not.
Something happens within you when you take a pen or pencil in hand and begin to write. Handwriting, I believe, represents our unique individuality. It slows you down and offers a chance to reflect as you write. Typed words on a page have no character, revealing little of the human being who wrote them.
When we write by hand we bring the words to earth and engage our full being in the process. Typing on a keyboard keeps the words 'up there' in the ethers and is more of a mental process. Writing cursive teaches us about relationships. As each letter joins the next one, we see the relationship it forms and what that feels like. Tying on a keyboard is mechanical and does not engage us on a deeper level.
"The human being becomes unfettered when he writes in the way that he paints or draws, when each letter next to the other becomes something that he draws." – Rudolph Steiner
Handwriting Speaks its Own Unique Language
In his book, The Missing Ink – The Lost Art of Handwriting and Why it Matters, Phillip Henscher, offers a poignant reminder of how the handwriting of someone can speak volumes, in a way that typed words on a page simply can not. His book ends with an anecdote about his experience of finding a notebook filled with the writings of someone who had recently died.
"It is a telling example of how the very flow and contour of handwriting gives back something of the person who produced it.

Many readers will know what it is to come upon the handwriting of someone they once cared for who is now dead, and to feel the shock of proximity. As much as any photograph, and more than any sound or video recording, handwriting can bring back to us the essential character of a person."
He goes on to say, "Writing this book, I've come to the conclusion that handwriting is good for us. It involves us in a relationship with the written word which is sensuous, immediate, and individual. It opens our personality out to the world."
Handwriting involves us in a relationship with the written word which is sensuous, immediate, and individual. #writing
Click To Tweet
A Lesson We Can Learn From Older Generations
Older generations learned how to write in cursive and this was their primary way of written communication. This is one of the big lessons we can learn from the generations that came before us. I feel grateful I learned to write longhand and fear it will become a lost art in a world where technology and keyboards have captured our time and attention.
This is currently a topic of much discussion as it continues to be phased out of early childhood education. The research clearly shows the advantages of cursive writing to the brain and learning. My book Confessions of a Middle-Aged Hippie was actually written longhand on large unlined pads of paper. Putting pen to paper accesses a different part of our being, allowing our creative self to flow onto the page.
Research clearly shows the advantages of cursive writing to the brain and learning. #cursive #learning
Click To Tweet
Michael Gelb, creativity expert and author of Creativity on Demand agrees that stream of consciousness writing is one of the most essential and powerful tools for getting your creative juices flowing. When pecking away at a keyboard, this rarely happens. My experience exactly!
Writing by Hand Stimulates How the Brain Learns
A piece in the NY Times reported research that shows "Children not only learn to read more quickly when they first learn to write by hand, but they also remain better able to generate ideas and retain information. In other words, it's not just what we write that matters — but how."
Children learn to read more quickly when they first learn to write by hand. #children #learning #writing
Click To Tweet
A study at Indiana University led by psychologist Karin James showed that when children write by hand, three areas of the brain become activated-– the left fusiform gyrus, the inferior frontal gyrus and the posterior parietal cortex. There was no activation in these areas when children just typed or traced letters. Something for parents and educators to take note of!
A 2013 study out of Princeton University found that students who took notes by hand—as opposed to on a laptop—had a stronger conceptual understanding of the material. When they needed to recall the material, they were better at actually applying what they'd learned.
Research confirms that writing by hand is simply healthier and has a more positive impact on how we learn.
Give Lasting Memories—Write by Hand
For as long as I can remember, I have loved to write. By hand. Sending handwritten cards or notes or letters to people who I care about has always seemed like an important way to communicate how I feel about them. So often people tell me years later that what I wrote touched them and they actually kept the card I had sent them. A great affirmation of the power of the written word.
When I recently heard about Elana Zaiman's new book "Forever Letter" it reminded me of my experiences and also my training in writing someone's biography. In a recent interview she explained: "A Forever Letter is a heartfelt letter we write to the people who matter to us most to communicate our values, wisdom, appreciation, hopes, and love, to ask for forgiveness, and to forgive. Our intention: that our letters or the messages that our letters impart are meaningful enough for our recipients to want to hold onto them forever." This mirrored my own experience in handwriting from-the-heart messages to others.
Writing Connects Us to the People We Care About
The 'Forever Letter' was inspired by the centuries-old Jewish tradition of the "ethical will," a letter parents would write to their children to pass on their values.
"Connecting with the people we love and care about is one of the most important things we can do. To connect in writing, to put ourselves on the page is not only a gift for we who write (to enable us to reflect on ourselves and our relationships), but also for the people to whom we are writing (who receive a hug in written form)."
Being Conscious of What We Write
We live in a world where people hide behind their keyboards and often spew out words without considering how they will impact the person they are directed at either in the short or the long term. I try to imagine those people sitting down and handwriting those same words with the intent of physically sending them to the person. My guess is most off-the-top-of-the-head words would never be sent! There is something to be said for stopping to consider the impact words can have before we speak them or write them! What do you think?
There is something to be said for stopping to consider the impact words can have before we speak them or write them! #writing
Click To Tweet
Why Writing by Hand Still Matters
Writer Mary Gordon sums up why writing by hand, putting pen to paper, has such a powerful impact. She rejoices in the grounding physicality of penmanship and how writing by hand ignites our creativity.
"Writing by hand is laborious, and that is why typewriters were invented. But I believe that the labor has virtue, because of its very physicality. For one thing, it involves flesh, blood and the thingness of pen and paper, those anchors that remind us that, however thoroughly we lose ourselves in the vortex of our invention, we inhabit a corporeal world."
Food for thought perhaps next time you sit down behind a keyword. Why not start your day and ignite yourself by picking up a pen and writing just for the joy of it. Maybe this is a reason journalling is so widely popular because it encourages us to do just that.
Start your day and ignite yourself by picking up a pen and writing, just for the joy of it. #writing #joy
Click To Tweet
My hope is we all commit to keeping the art of writing by hand alive and that younger generations continue to learn it. It matters to their future development and perhaps to the future of our humanity too.
Do you still write by hand? Do you notice a difference in how you experience it vs. writing on a keyboard?