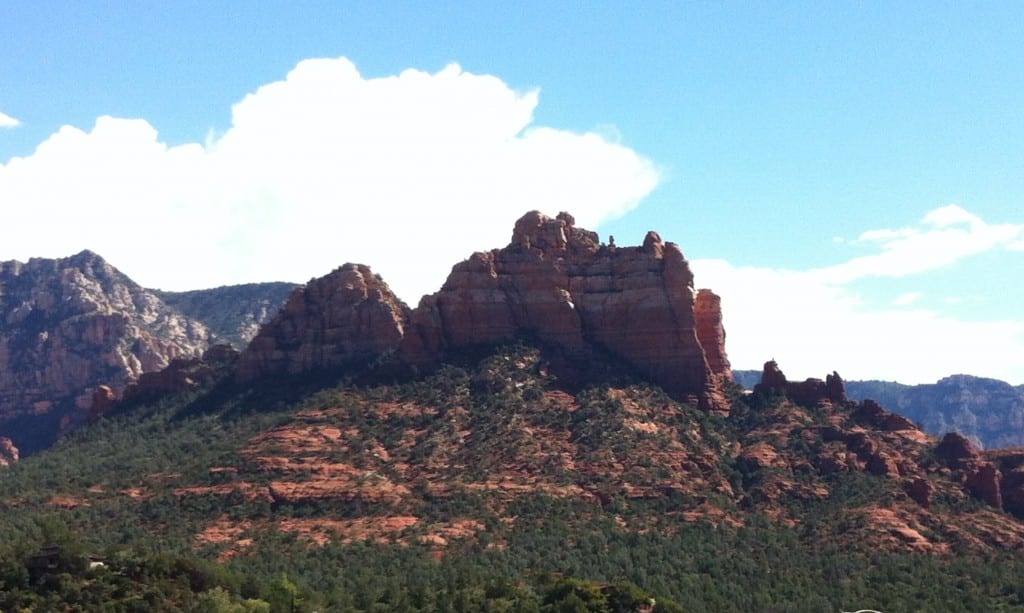 There is something quite wonderful about letting go of plans and expectations to let unlikely influences come together in magical ways. Years ago when I started saying "yes to life", I found I was having experiences that were beyond what I could have ever imagined. I've come to call them, "adventures of the unscripted kind".
Sedona has become one of the places I can never get enough of, returning year after year. Its majesty and beauty is simply… beyond words. This year the place became equal partners with the incredible adventures I was about to have. Unplanned encounters with an amazing array of people. All with interesting stories of their own to share.
The Magic in Unrelated Things
There were two unrelated things that kicked off this round of adventures of the unscripted kind. Firstly, my daughter Lani was unable to join me on our yearly trip and I casually threw out, "I have an idea", in an email to my long-time friend and fellow Aquarian singer/songwriter Kelita, who now lives on the other side of the country in Vancouver. "Why don't you come to Sedona with me this year?" She had never been and I absolutely knew she would love it. Surprisingly she said "yes" and set in motion an incredible week together that we could never have planned. Even if we had tried.
Secondly, I had agreed to be part of a challenge during the month of October called #BetterYou, pledging to connect with people in person face to face and to spend more time in nature. Little did I realize how prophetic those intentions would become.
Unexpected Hiking Adventure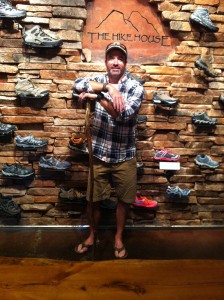 First day there, we joined a free hiking clinic offered by the generous spirited Greg of The Hike House. His yearly visits to his mother, a longtime Sedona resident, had him realize that his white collar corporate position in Texas, wasn't fulfilling his passion and desire to live a life in nature. He decided to pack up his family and relocate to Sedona, opening his shop and café to serve the hikers who flock to Sedona to experience the multitude of trails within the area. Greg told us it would take 20 years to hike all of the 200 plus trails around Sedona. Impressive. A great reason to keep coming back too.
At the trail-head, just before the hike began, he called out to a passing woman, "Hi Terrie". She cheerfully replied, then walked off to start her own hike. Greg mentioned that she owned the legendary house up on the hill above his shop and that she and her twin sister Jennie were the Doublemint Twins back in the late 60's.
A Synchronistic Wrong Turn
Before we all moved out to follow a different trail, Terrie came back towards us and casually said, "Oops, I took a wrong turn." Kelita stopped to talk with her and within a few minutes we had an invitation to come up and visit her at the house. Was there any possible answer but YES?
The house itself is the story of urban legends around Sedona. Called the House of Seven Arches it is also affectionately called "Lucy's House", as in comedienne and actress Lucille Ball. The stories can be elaborate or mere references, however, they all report that at one point in time, this was Lucille Ball's house and she lived there.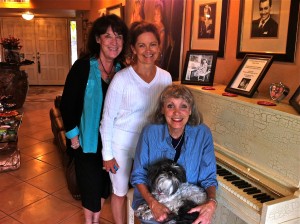 Entering the house was like a nostalgic trip back in time. Movie and music memorabilia line the walls. Photos of Clark Cable and Marilyn Monroe hang over her newest and very prized possession, Lucille Ball's piano, which Terrie just bought in February from Lucy's nephew, Geoffrey. Terrie herself has had an amazing and illustrious entertainment industry career as a writer, singer, songwriter and musical theater writer (Dorothy Parker – Room Enough for Two), as did her sister Jennie who passed away in 2008. What Terrie Frankel is most proud of though, is being active in military causes and her recent honour of being inducted as Honorary Commander of the 944th Fighter Wing Squadron Medical Unit that shepherds wounded soldiers home from overseas.
House of the 7 Arches—the Legend Surrounding It
When asked about the legend surrounding the home, she told me "Lucy did not own this home,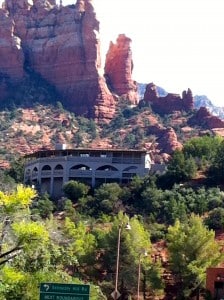 however someone in her family did. The Ball family believes that at one time Lucy owned the entire hillside that this home is built on. After she divorced from Desi, she had a lot of money and purchased a lot of property in this area. Although Lucy never owned the home, I have spoken with people who saw her here in the house for parties." On the balcony which overlooks uptown Sedona, stands a red-haired "Lucy" mannequin that waves at the cars and jeep tours that drive up and down Schnebly Hill Road. It was fun on the day we visited to be on the balcony and be "live" wavers to the parade of jeeps driving back after their day of tours. Terrie said she had never actually done that before. The house also boasts one of only two Google EarthCam's in Sedona, which stream live images to the world.
Terrie is friendly and cherubic, with a generous heart and an open willingness to invite people in. It astonished me when she told us that very few people ever follow-up with her like Kelita and I did. Really?
Full Moon Drum Circle
A brief interaction with a lovely couple at a morning yoga class brought an invite to attend the full moon eclipse drum circle up on Cathedral Rock that overcast evening. It was the first time I had hiked in the dark by flashlight and was a fun way to celebrate, even if the moon wasn't visible. After about an hour, as we were climbing back down, incredibly the moon emerged and we had a spectacular and unique experience of being illuminated by the light of the full moon.
Climbing up the knoll beside the Airport Road Vortex, I spied a lady who was wearing the only shoes I wear to walk and hike. Love my minimus shoes! A brief conversation and she confirmed they were her "only shoes" too. We hiked around the trail and on our way back, ran into them again. We stopped to have a wonderful conversation about art and writing; music and life. Patty, an artist, and Vernon, a writer, hailed from Hawaii and we immediately bonded over common interests revealed through conversation.
My Own Starbucks "Meeting" Story
You know those stories about how people meet at Starbucks? Uh-huh. Yes, we had one of those experiences too. Our usual spot to sit on the balcony overlooking the red rocks was filled this Friday morning, so we went to the more shaded balcony. It was filled as well. A man was getting up to take a photo of a young Japanese couple who were about to leave their table. They were happy to hold their Starbucks cups up while he took their picture with the magnificent red rock background.
Taking their now vacant table, a conversation just flowed between the three of us. He had a gentle soft-spoken energy and wonderful welcoming blue eyes and it seemed easy and natural to talk about a variety of topics. During the course of our meandering conversation, the fact that I'm a writer came up and he mentioned his new neighbor had also written a book and was now in a place, like many of us authors end up, questioning "Now what?"
Authors on the Same Page
Roger thought it would be wonderful if Kim and I could meet, so he suggested dinner at his place that night. The invitation to an almost home-cooked meal, compliments of Whole Foods, (he had literally just relocated to Sedona that day), did manifest and the four of us had an amazing and delightful evening of sharing stories, lively engaged conversation and much laughter. And Kim had written her book at a later version of the same writing retreat I'd written my book, Confessions of a Middle-Aged Hippie, at. Also in Sedona. Turns out she knew several of the same people I did too. Small world.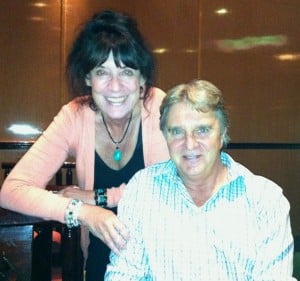 When I told my daughter I was going to dinner at a man's house that I'd met at Starbucks, her reaction made me smile. She asked if this was some "random man". Maybe. However, over the course of the next week he and I had many conversations, times in nature together and lovely dinners. And I had a longtime wish come true, as he graciously took me on an off-road adventure up Schnebly Hill Road, something you can't easily do in a rental car. Although we come from different backgrounds and perspectives on science and spirituality (he has a science background and I do not) it felt to me like all the cosmic puzzle pieces had fallen into place in that moment, in that place, on that day, allowing our worlds to collide as they did.
Dare to Say "Yes to Life"
These are only a few of the people I met. Maybe I'll write part two, to share more of the wonderful people I had the pleasure to meet in person, face to face this month. It amazed me how the intention I set before I came, manifested perfectly on this trip.
It started me thinking how so often we miss the moments that could become memories in our lives, because we don't stop and see them as an opportunity. We all have interesting stories to share, I believe. That to me is what being human is really all about. It's as simple as taking the time to stop and listen to one another. To really listen with open ears and share with an open heart. I can only encourage everyone to say "yes" more than you say "no". To sometimes let go of plans and expectations and let life flow. Go out and make some memories. Dare to live your life as one big adventure…of the unscripted kind.