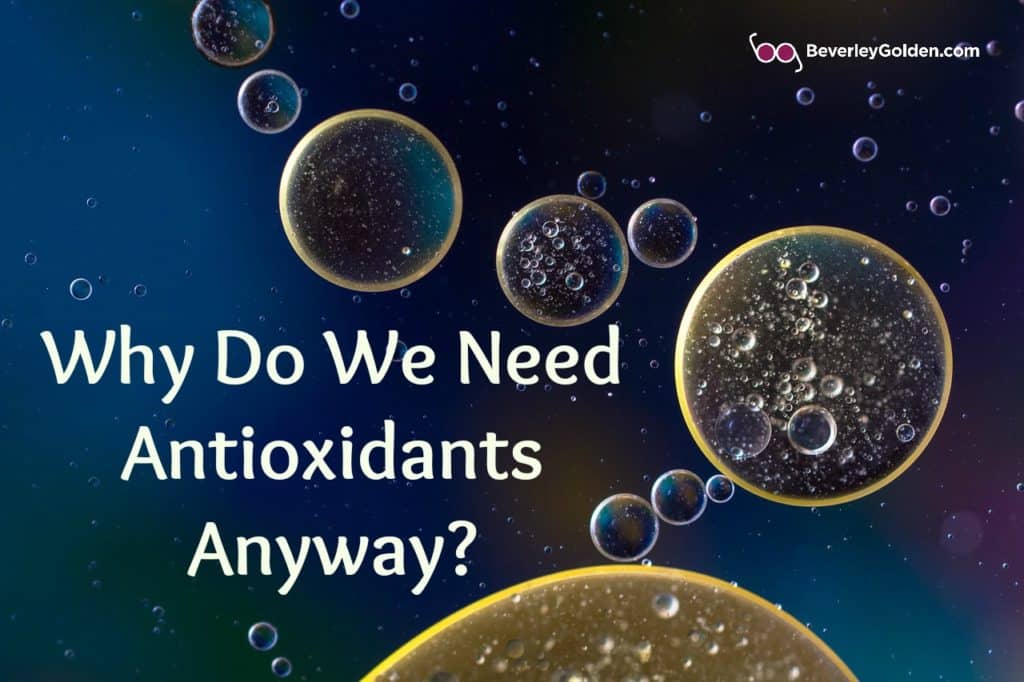 Welcome to the third in an ongoing series on health and health myths. You can catch up on the first two pieces, "3 Wildly Popular Health Myths—That Aren't True" and "Dietary Fat: Friend or Foe to Our Health", to see what you've missed so far. When I asked if anyone had any health topics they're curious to know more about, several people did. My friend Roslyn Tanner Evans asked, "What the Heck Are Antioxidants?" So, here goes…
Maybe you've heard the term antioxidants mentioned online, on television or even on product packages claiming to be good for you because they are rich in them. Have you ever wondered what exactly they are? The simplest way to explain it is that antioxidants fight against oxidative stress and the formation of free radicals in your body. Antioxidants help you maintain cellular health.
What Are Free-Radicals?
So maybe you're now asking what free radicals are? You might already know that all living organisms use oxygen to metabolize and use dietary nutrients to produce energy for survival. As a vital component for living, oxygen is a key player in chemical reactions that metabolize fats, proteins, and carbohydrates to produce that energy.
Even though oxygen is one of the most essential components for life, it has another less positive side. Oxygen can be a highly reactive atom that is capable of becoming part of potentially damaging molecules commonly called "free radicals."
Free Radicals and Disease
Once formed, free radicals are capable of attacking our body's healthy cells. Guess what happens next? Yes…it can lead to cell damage and eventually disease. Cell damage caused by free radicals is believed to contribute to the aging process and growing rates of diseases like:
Cancer
Heart Disease
Decline in Brain Function (Alzheimer's and Parkinson's disease)
Compromised Immune System
To date, free radicals have already been linked to the development of at least 50 diseases! See why we really need antioxidants to keep us healthy?
Antioxidants Are Like Superheroes
Antioxidants are like superheroes, as they're the compounds which can inhibit oxidation in both the body and in foods. What exactly is oxidation? Simply put, oxidation is a chemical process which involves the transfer of electrons or hydrogen-producing harmful free radicals in the body.
Ever watched the food you buy go bad after a short length of time? That's oxidation. It's why antioxidants are often used in food manufacturing to slow down this process. If you're like me, maybe you're thinking this is probably a key reason to eat fresh vs. processed foods whenever possible.
Then there are the external factors we're subjected to like cigarette smoke, air pollution and excessive alcohol consumption. All of these can lead to the production of free radicals, making them equally as harmful to us. Antioxidants to the rescue! They are our best line of defense to help stop the damage done by free radicals. This means they may play a major role in reducing our risk of disease.
Antioxidants in Foods
Some common antioxidants include specific vitamins, flavonoids and polyphenols. For example, vitamin C works to stop the oxidative chain reaction before it starts and vitamin E breaks the chain further along. Flavonoids and polyphenols are also common antioxidants, with different forms of them found in a variety of plant-based foods.
For all of us, it's wise to aim to get as many antioxidants as we can from our diet. Foods naturally high in antioxidants come mainly from the fruit, vegetable and legume families. Berries contain the highest amount of antioxidants for fruit. In particular blueberries, cranberries and blackberries. Artichokes are a good source from the vegetable family. Red beans and pinto beans are the highest in antioxidants of the legumes.
Antioxidant Vitamins C and E
Antioxidant water-soluble vitamin C is commonly found in fruits and vegetables, particularly citrus fruits. Beta-carotene, which is required to make the antioxidant Vitamin A in the body, is found in vegetables that are green and leafy or yellow and orange in color. Make sense why we're advised to make sure our plates contain a rainbow of colours each meal?
Fat soluble vitamin E is found in nuts, seeds, wheat germ, high-quality vegetable oils and whole grains. Flavones are a type of polyphenol antioxidant found in berries and tea. Carotenoids include the antioxidants lycopene and beta-carotene and are found in a variety of vegetables.
In the previous piece, we looked at the importance of dietary fats to our health. As it turns out, a diet low in fats may impair absorption of beta-carotene, vitamin E and other fat-soluble nutrients. One more reason to make sure your diet is rich in high-quality fats if you want to be your healthiest.
Not All Antioxidants Are Created Equal
No question it's important to make the effort to eat lots of antioxidant-rich foods. But do you know that there is a difference between dietary antioxidants and endogenous antioxidants?
Dietary, or exogenous antioxidants, come from your external environment. The other—endogenous—is a more powerful free radical fighter produced inside your body. In fact, the antioxidants our body produces are 100 times more powerful at fighting free radicals than those we get from food!
So how do we stimulate the production of more of those in our body? This has been a missing piece of the puzzle. We've known how to nourish and protect cells, but not how to renew them. Until now.
Breakthrough in Cellular Nutrition
Enter an exciting new breakthrough in cellular renewal from USANA called InCelligence technology. It's a revolutionary scientific advancement that taps into your body's innate wisdom to heal itself. And to make more of its own antioxidants, which is exactly what we want!
It allows more free radicals to be neutralized so the body doesn't break down as quickly. It also signals your cells so they can renew their aging mitochondria. I can hear you asking, "What exactly are mitochondria?"
The mitochondria are where all of our energy is made. When mitochondria age they make less energy (ATP) and more free radicals. The InCelligence technology signals the cell to repair and renew the mitochondria so they can go back to making more energy! Sound interesting?
If you've got a minute, this video explains more…
"The science of InCelligence has been made possible because of insights gained from recent advances in our understanding of genetics, cell signaling, and molecular biology. And it is an exciting new platform that enables USANA scientists to create products with a laser-like focus on certain processes within the cell and helps those processes to work even better."
What Health Topics Are You Curious About?
There's so much to share about the importance of antioxidants to our health. There just might be another post coming soon. Several people have asked about curcumin, so I'll be sharing a post about it's antioxidant and anti-inflammatory properties soon too. Someone else was curious about our metabolism and aging.
Having had health issues that I've transformed in my own life, I'm committed to sharing information to support others to live their most vital and healthy selves. Do you have health goals you're committed to reaching? You're invited to a complimentary health consultation where we'll work together to design your personalized health plan! Just email me to set up a time to talk! To your health…
p.s. Please let me know if there are any other health topics you're curious about.